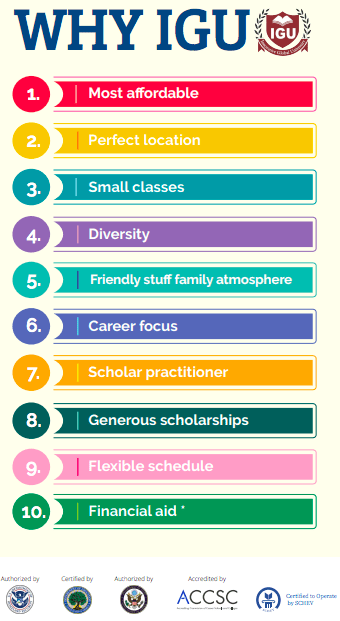 VISION STATEMENT
IGlobal University (IGU) is transforming the world by providing the most effective education to every human being for their intellectual, professional, spiritual development and growth, whether they are young or old, rich or poor, privileged or underprivileged, local or remote.
MISSION STATEMENT
The mission of IGlobal University is to provide the highest quality, career-oriented education for students to attain the knowledge and skills to meet the needs and challenges of emerging global industries. In order to fulfill its mission, the University established the strategic goals:
To achieve the academic excellence in career-related education.
To achieve financial sustainability and strength through efficient and effective resource management.
To manage the global expansion and growth successfully.
INSTITUTIONAL OBJECTIVES
In order to achieve its strategic goals, the University established the following objectives with emphasis on "academic quality":
To develop appropriate career-oriented academic programs.
To achieve high enrollment, retention, and placement rates through satisfactory student learning outcomes, graduate satisfaction, and employer satisfaction.
To establish close cooperative partnerships with all the stakeholders, including employers and community leaders at the local, regional, national, and global levels.
CORE VALUES
The essential drive of IGlobal University is reflected in its variety of educational programs offered to worldwide students.
Diversity: IGU welcomes students from all over the world and fosters equal participation of all its constituents.
Lifelong Learning: IGU stimulates and promotes learning and life-long knowledge retention through continuing education.
Affirmative Spirit: IGU promotes integrity and harmonious work with pride and compassion.
Partnership Cooperation: IGU cooperates with all of its stakeholders, including students, faculty, staff, and community citizens.
Effective Instructional Delivery: IGU's educational programs are designed for students who aspire to many professional areas of study. IGU's instructional delivery is based on primarily residential settings on the main campus and any future branch campus.
ACADEMIC OBJECTIVES
In fulfilling its mission, IGU is committed to the following Educational Objectives:
Graduates will accumulate foundational and critical knowledge to work productively in the community.
Graduates will effectively integrate administrative and management skills to meet the needs of the diverse business community.
Graduates will apply educational and practical business concepts and administrative skills in their respective fields of work.
Graduates will continue to pursue self-directed and life-long learning to be current with advanced business operations.
Graduates will demonstrate competent communication skills in the managing of human resources at the workplace.
Graduates will exhibit pertinent general knowledge and professional skills for career advancement, leadership role, and teamwork in an increasingly versatile economy.
Graduates will demonstrate competency and understanding of functional work areas and exhibit broad expertise in their specific field of study.
EDUCATIONAL PROGRAMS
IGU offers five (5) accredited programs: Master of Business Administration (MBA), Master of Science in Information Technology (MSIT), Bachelor of Business Administration (BBA), Bachelor of Science in Information Technology (BSIT), and English as a Second Language (ESL) Programs. Our tuition rates for graduate programs are very affordable and competitive. In addition, many types of scholarships, financial assistance, and on-campus employment opportunities are available to qualified students.
CIVIL RIGHTS COMPLIANCE
In compliance with Federal, State and local government requirements and the Civil Rights Act of 1964 as amended, IGlobal University will not discriminate against any individual on the basis of age, sex, race, color, religion, association, national and ethnic origin, marital status, sexual orientation, medical condition or physical disability, or qualified disabled veterans in the administration of its educational programs, university-administered programs, publications, admissions of students, award of scholarship and loan programs or in its employment practices.
Statements regarding tuition and fees contained in this Catalog comply with the 8 VAC 40-31 et seq. of the Virginia Administrative Code as adopted by the State Council for Higher Education of Virginia (SCHEV).
The academic and graduation requirements and the curricula outlined herein apply to all appropriate students enrolling at IGU as of September 2009 and thereafter.
Locations
Vienna
Address
8133 Leesburg Pike
Vienna
,
Virginia
,
USA
Programmes
This school also offers: