Part-time Manchester Global MBA
Home ›
Part-time Manchester Global MBA
Read more about this programme on the school's website
Programme Description
Transform your career with this hands-on, flexible part-time Global MBA (18 or 24 months).
From day one, you will learn the skills and knowledge you can apply immediately to your workplace to help you stand out. You will study core business and management courses, choose specialist electives, and take on two practical business projects - while studying on-campus up to only three times a year. It all adds up to as much face-to-face teaching as most full-time MBAs and graduate with the same qualification. Our triple-accredited part-time MBA holds global recognition from three of the world's most respected and influential accreditation bodies - AACSB, AMBA & EQUIS.
With intakes every January and July, come embark on a journey of leadership transformation with us today.
The Manchester Global MBA Advantage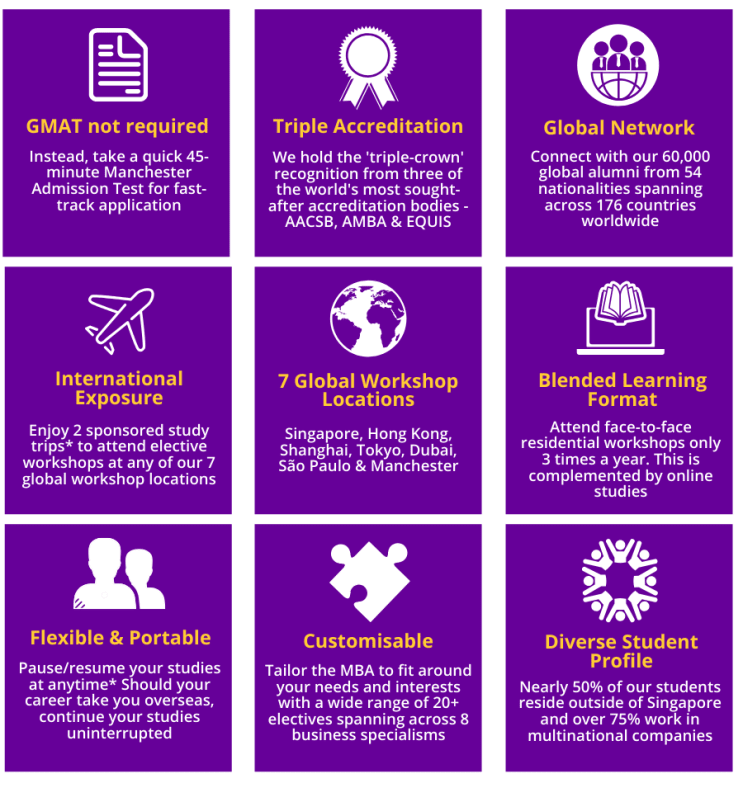 Programme Structure
With intakes every January and July, the Manchester Global MBA includes face-to-face classes, online studies, group work, business projects and personal & professional development opportunities.
Dynamic face-to-face workshop teaching by our 100% UK fly-in faculty
Online lectures in a dedicated virtual environment
Electives to tailor your MBA to suit your goals and interests
A simulation project based on a real business challenge
Our curriculum is taught in 4 practical themes rather than traditional subject areas
Networking events, career workshops, seminars, and masterclasses to value-add your MBA experience
A global network of 60,000 alumni as soon as your start the programme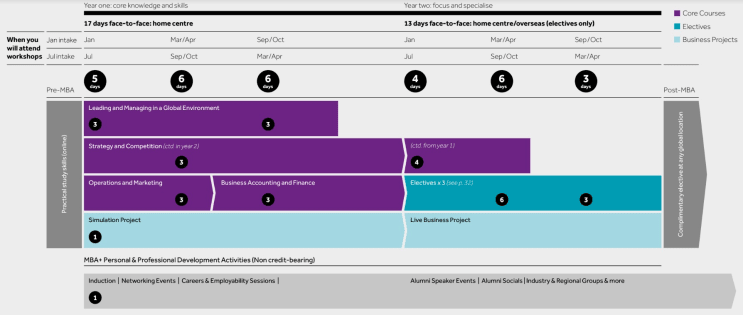 Electives
We want you to get exactly what you need from the Manchester Global Part-time MBA. With our wide range of electives, you can tailor the MBA to suit your personal goals and interests. Our current range of electives is listed below and you can build your MBA around a field that interests you, such as finance or entrepreneurship, with the elective specialisms overleaf.
Current range of electives
Live Business Project
The live business project gives you the flexibility to explore an entrepreneurial venture in a sector of your choice, or to tackle a business issue that is critical to your organisation, which will help you stand out and deliver real value in the workplace. It's an opportunity to try something you've always wanted to do while gaining invaluable, practical business experience to enrich your CV.
Example projects:
Rediscovering Kellogg Nutri-Grain Bar's Competitive Mojo
A study into the effectiveness of the Corporate Parent in delivering value to stakeholders
The effects of earned media on brand preference, purchase intention and sales performance: a study on infant formula brands
Segmenting and targeting Chinese e-lock consumers
Identifying and quantifying the critical success factors for taxi-hailing mobile apps
Helping Salesforce.com support the re-integration of unemployed job-seekers into the labour market
A study of non-household consumer switching in England's water market
Your MBA Colleagues
The part-time Manchester Global MBA attracts executives from leading companies including:

Graduation and degree offered
Successful completion and passing of coursework stage and project stage would allow a student to graduate with Master of Business Administration qualification awarded by the University of Manchester in the UK.
Each year, we hold a formal graduation ceremony in Singapore for all of those students who successfully complete the University of Manchester MBA. Students can also attend the graduation ceremony held in Manchester.
Cost
S$68,167.56 inclusive of GST
Please contact us for various discount schemes.
Location
Available all over the world with workshops held in Singapore, Dubai, Manchester, Hong Kong, Shanghai, Tokyo and São Paulo
Admissions
At least three years of postgraduate work experience and recognised degree or eight to ten years experience in lieu of a degree.
Last updated Dec 2019
About the School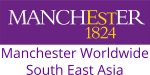 A 100% owned subsidiary of The University of Manchester, the Southeast Asia Centre has established its presence in Singapore since 1992, and runs flexible Global MBA for executives from diverse cultur ... Read More
A 100% owned subsidiary of The University of Manchester, the Southeast Asia Centre has established its presence in Singapore since 1992, and runs flexible Global MBA for executives from diverse cultural and professional backgrounds. It now supports nearly 300 students and has graduated more than 1600 students in the Southeast Asia and Oceania region.
Read Less